Workshop: Using Normative Knowledge from the Past
Workshop
Date:

Mar 4, 2020

Time:

02:00 PM - 04:00 PM (Local Time Germany)

Organisation:

Alexandra Woods, Fupeng Li

Location:

MPIeR

Room:

Z02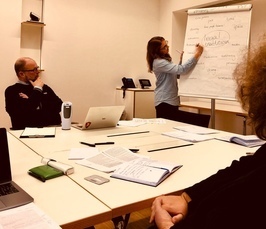 The working group 'Using Normative Knowledge from the Past' discusses concepts that we use, want to use, or should perhaps revisit in order to understand how normative knowledge was produced in different historical times and places. Tradition, materiality, praxeology, evolution, communication, information management, are just some examples of the concepts dealt with. The first session was held on 31 January 2020 and discussed the concept of 'legal tradition', focussing on the first chapter of H. Patrick Glenn's Legal Traditions of the World. Sustainable Diversity in Law (5th ed, Oxford University Press 2014).
Upcoming sessions will be held at 14:00 on 4 March, 20 May and 4 June. All are welcome to attend.
For further information, please contact woods@rg.mpg.de.