Observation and Communication: The Construction of Realities in the Hispanic World
Edited and with an introduction and conclusion by Johannes-Michael Scholz and Tamar Herzog

Ius Commune Sonderheft 101
Frankfurt am Main: Klostermann 1997. XII, 623 S.

ISSN: 0175-6532
ISBN: 3-465-02935-6
---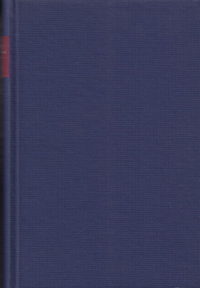 Elementare Interaktionen wie Wahrnehmen und Kommunizieren sind wissenschaftlich gesehen nicht mehr unproblematisch. Unter Rückgriff auf Anthropologie, Bourdieusche Kultursoziologie und Luhmannsche Beobachtungsparameter wird an kulturelle Variablen erinnert, die über alle kognitive Autonomie nicht in Vergessenheit geraten dürfen. Eine zunehmend globalisierte Gesellschaft verlangt, bei der spanischen Welt nicht stehen zu bleiben. Zumal sich angesichts eines ehemals imperialen Spanien eine einzigartige Chance bietet, ist Gegenstand auch Lateinamerika.
Die 17 Einzelbeiträge führen die verschiedensten Disziplinen und Autoren aus mehreren Ländern in der zumeist historischen Beobachtung zusammen. Wissenschaftsgeschichte steht neben rechtlichen Phänomenen, Befehlen neben anderen Formen der Herrschaftsausübung, das Fest neben der Hexerei und dem interkulturellen Transfer. Fremdes spielt durchgängig eine große Rolle. Der Austausch von Geschenken und Rhetorik im Rahmen einer freundschaftlich bzw. klientelär vernetzten Welt werden ebenso angesprochen wie die theoretischen Probleme einer späteren Zweitbeobachtung.
Inhalt:
Johannes-Michael Scholz, Situativ beobachten und opak kommunizieren: Wahrnehmungen an elementarer Interaktion in einer hochvernetzten Gesellschaft
Javier Alvarado Planas, La polémica de los justos títulos en la iconografía americana
Francisco Andújar Castillo, Mandar. Los centros del poder militar en la España del siglo XVIII
Manuel Aranda Mendíaz, Armonización jerarquizada: Para una epistemología de los discursos del Tribunal Supremo de España en el siglo XIX
Manuel Angel Bermejo Castrillo, Evolución del proceso penal en el ordenamiento español. El ejemplo de la prueba
Christian Büschges, Urban public festivals as representations and elements of social order in colonial Ecuador
Diana Luz Ceballos Gómez, Hechicería y brujería en el Nuevo Reino de Granada: una lectura del mundo
Michaela Dlugosch, Wissenschaft aus einer fremden Perspektive: Spanische Juristen als Auslandsstipendiaten (1907-1936)
Tamar Herzog, Percibir el otro: El código penal de 1924 y la división de los peruanos en personas "civilizadas", "semi-civilizadas" y "salvajes"
Federica Morelli, La publicación y el juramento de la constitución de Cádiz en Hispanoamérica. Imagenes y valores (1812-1813)
Magnus Mörner, Viajeros e inmigrantes europeos como observadores e intérpretes de la realidad latinoamericana del siglo XIX
Vincent Parello, Communication et rite d'institution: L'inhabilitation des judéo-convers en Espagne au XVIe siècle
Mireille Peytavin, Naples au miroir espagnol: une contemplation amoureuse
Isabelle Poutrin, L'oeil du souverain: Luis de Aliaga et le métier de confesseur royal sous Philippe III
Friso Ross, Ständisch beobachten und kommunizieren: Zu spanischen Justizregistern des 18.-20. Jahrhunderts
Johannes-Michael Scholz, Medizinische Diagnostik und gesellschaftliche Beziehungen: Gregorio Marañón (1887-1960)
Jan Szemiñski, Intérpretes de Cajatambo 1656-1662; Christian Windler, Bureaucracy and Patronage in Bourbon Spain
Tamar Herzog, Conclusion.