Juristische Buchproduktion im Mittelalter
Herausgegeben von Vincenzo Colli

Studien zur europäischen Rechtsgeschichte 155
Frankfurt am Main: Klostermann 2002. IX, 821 S.

ISSN: 0175-6532
ISBN: 3-465-03075-3
---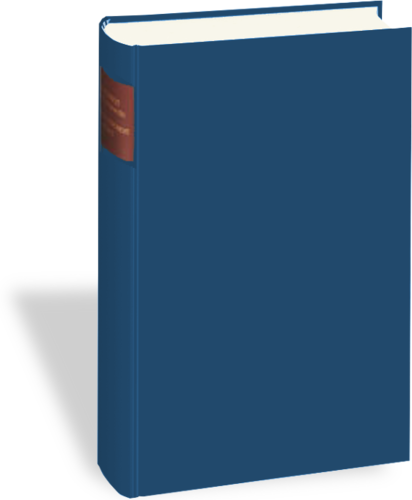 Inhalt:
– I. Forschungstendenzen und -perspektiven:
Mario Ascheri (Siena), I manoscritti giuridici tardomedievali: alcune ricerche recenti, alcune priorità
Bernd Michael (Berlin), Juristische Handschriften aus der Sicht des Handschriftenbeschreibers
– II. Handschriftenarchäologie:
Antonio Ciaralli (Roma), Produzione manoscritta e trasmissione dei testi di natura giuridica fra XI e XII secolo:due esempi
Giovanna Murano (Firenze), Tipologia degli exemplaria giuridici
Robert Gibbs (Glasgow), The development of the illustration of legal manuscripts by Bolognese illuminators between 1241 and 1298
Susan L'Engle (Los Angeles), Trends in Bolognese legal illustration: the early Trecento
– III. Die Produktion juristischer Handschriften:
Ludwig Burgmann (Frankfurt am Main), Juristische Buchproduktion in Byzanz
Peter Landau (München), Typen von Dekretalensammlungen
Christoph H. F. Meyer (Erlangen), Gratian in Westfalen. Landesgeschichtliche Befunde zur Verbreitung kirchenrechtlicher Literatur um 1200
Gero R. Dolezalek (Leipzig), Libri magistrorum and the Transmission of Glosses in Legal Textbooks (12th and Early 13th Century)
Emanuele Conte (Roma), unter Mitarbeit von Valentina Longo, Simona Magrini und Frank Theisen, I diversi volti di un testo del XII secolo. La Summa di un giudice fra aule universitarie e tribunali
Orazio Condorelli (Catania), Note su formazione e diffusione delle raccolte di quaestiones disputatae in diritto canonico (secoli XII–XIV)
Martin Bertram (Roma), Zwei vorläufige Textstufen des Dekretalenapparats Papst Innozenz' IV.
Frank Soetermeer (Amsterdam), Exemplar und Pecia. Die Herstellung juristischer Bücher in Bologna im 13. und 14. Jahrhundert
Vincenzo Colli (Frankfurt am Main), Lo speculum iudiciale di Guillaume Durand: codice d'autore ed edizione universitaria
Antonio Pérez Martín (Murcia), La producción de códices jurídicos en España: ius commune y iura propria
– IV. Von der Handschrift zum gedruckten Buch:
Diego Quaglioni (Trento), Dal manoscritto alla stampa. Agli inizi della tipografia giuridica bolognese
Uwe Neddermeyer (Köln), Juristische Werke auf dem spätmittelalterlichen Buchmarkt. Marktanteil, Buchhandel, Preise und Auflagen
– V. Juristenbibliotheken:
Donatella Nebbiai (Paris), «Leges de voluntariis». Bibliothèques et culture des juristes en Italie d'après les inventaires de livres (XIIIe–XVe siècles)
Ingrid Baumgärtner (Kassel), Meßbares Wissen. Juristische Handschriften an spätmittelalterlichen deutschen Kollegien und Universitäten
Helmuth G. Walther (Jena), Die Bibliothek des gelehrten juristischen Praktikers. Beobachtungen zu Handschriften und Frühdrucken der Nürnberger Ratsbibliothek.