Colloquium on the History of Police and Criminal Justice
Colloquium
Date:

Jun 4, 2018

Time:

10:45 AM - 02:45 PM

Organisation:

Karl Härter, Osvaldo Barreneche

Location:

MPIeR

Room:

Lecture hall of the MPI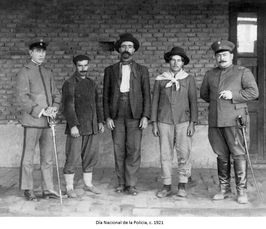 In the colloquium on the history of police and criminal justice, organized by Osvaldo Barreneche and Karl Härter, visiting scholars and doctoral students present their recent research projects.
Tom Hamilton, Agustin Elías Casagrande, Raquel Sirotti and Melisa Fernandez Marrón present case studies on Latin American and European countries which range from the early modern period to the twentieth century and deal with comparable topics: political crime, criminal procedure and the functions of the police. Thus giving the basis to discuss general aspects of the history of criminal justice and police related to modes of communication within prosecution and criminal procedure, the competences and jurisdictional powers of the police, the influence of popular discourses and media and, finally, the possibilities of transatlantic comparison.
---
Image: Police arrested the "usual suspect", Source: Archivo General de la Nación Argentina.