Presentation of the Digital Edition Platform of the Project "The School of Salamanca": Francisco de Vitoria's "Confessionario"
Presentation
Date:

May 9, 2018

Time:

06:00 PM - 07:30 PM (Local Time Germany)

Organisation:

Christiane Birr

Location:

Max Planck Institute for European Legal History

Room:

Lecture hall of the MPI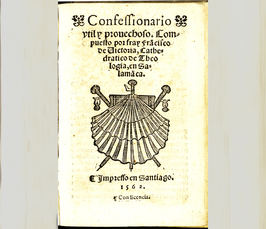 As a result of several years of developing the digital edition of texts of the School of Salamanca, and although the edition still is (and will remain) a 'work in progress', the 'The School of Salamanca' project will officially release its digital edition as an online portal for research on the texts of the School of Salamanca on 9 May 2018.
The release of the digital edition will take place within the scope of a workshop on the 'Confesionario Útil y Provechoso' by Francisco de Vitoria, one of the most important texts of the central group of works of the digital edition, and a work that is already edited to the greatest extent following the project's extensive text preparation and annotation processes. The detailed program of the workshop will follow soon at this place.
Following the discussion of Vitoria's 'Confesionario', the project will present the web application of the digital edition by means of a small 'tech demo' during which the web application's functionalities shall be explained by taking the example of the previously discussed work.