Jour Fixe: Strikes, dictatorships and the circulation of ideas: investigating dialogues between Brazil, Portugal and Italy (1930-1945)
Jour Fixe
Datum:

16.10.2017

Uhrzeit:

12:00 - 13:00

Opponent:

Massimo Meccarelli, associate Researcher MPIeR

Ort:

MPIeR

Raum:

Z 01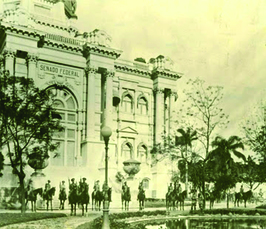 On November 10th, 1937, Getúlio Vargas, the president of Brazil, closes the National Congress and institutes the dictatorship of the Estado Novo (New State). On the same day, a Constitution written by jurists of the regime, is promulgated and published by the coup-supporting press.
The right to strike, legal in Brazil until then, is considered an antisocial, detrimental to the nation.
The authors from the period stated that the Constitution of 1937 was inspired by the Portuguese Constitution of 1933 and by the Carta del Lavoro from the fascist Italy. After some time, the Constitution is nicknamed 'Polaca' (Polish) because it was inspired by the Polish Constitution of 1935.
In the first stage of the research, it was discussed how the article of the Constitution that criminalized the strike was enforced in Brazil. The trials that took place in the Courts at the time were studied, as well as legal books, labor and commercial newspapers.
The criminalization that existed in European countries also existed in Brazil, but it was carried out in a very peculiar way. Adaptations were made, and new interpretations were reached. The legal system in the dictatorship did not prevent the Brazilian characteristics from exerting their influence on the application of the law. In one of the suits in the National Security Tribunal (a temporary court created by Vargas), for example, strikers were found not guilty for being peaceful and cordial – "national" characteristics, as described by the judges – even after having committed the crime of striking. It is safe to say that there was an adaptation of the legal text, which does not mean that it wasn't applied in a different way in other cases.
Here, it is interesting to notice that the legislation during the dictatorship was adapted to the specific circumstances of the country at that time.
That being said, the research intends to describe how the norm that criminalized the strike was enforced in the "model" countries, analyze the information flow and the circulation of ideas among jurists about the strike, understand the processes of resistance to the "official law" and verify the reaction of jurists when faced with the criminalization of a right. I want to understand how the criminalization of the right to strike worked in Portugal and Italy to verify the possible specificities from each country and then compare them.
The objective of this research is to question the reactions to the criminalization of a right, the exercise of the right to strike in a dictatorship and compare the experiences of these three countries.
---
Bild: Die von Getulio gesandten Truppen umgeben den Monroe-Palast, den Sitz des Senats, am Morgen des Staatsstreichs im Jahre 1937, © Museu da República/Ibram/MinC