Workshop: The History of EU Law in Transnational and National Perspective
Workshop
Start:

Jan 26, 2017

End:

Jan 27, 2017

Location:

MPIeR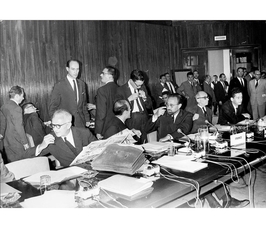 This two-day workshop will formally initiate the co-operation between the Institute and the Copenhagen-based Network 'Towards a New History of European Public Law'. The collaboration will contribute to the Institute's research field 'Legal History of the European Union'.
The workshop will focus on the different national receptions of European law in the different member states and on the central actors in the process of (legal) integration, ie the Court of Justice, the Parliament, the Council and the Commission.
The workshop is by invitation only.
---
Photo Source: Réunion à Bruxelles du Marché commun agricole. Bruxelles: Keystone, 1965. Noir et blanc.
Copyright: (c) Keystone All intellectual property rights for material on this site are reserved. Without express permission all reproduction as well as all use of the material other than for consultation within the domestic and/or private circle or for publication for a strictly scientific purpose is prohibited.