Catharine MacMillan: The Judicial Committee of the Privy Council
Frankfurt Legal History Evening Lecture
Date:

Nov 2, 2016

Time:

06:00 PM (Local Time Germany)

Speaker:

Catharine MacMillan

King's College London

Topic:

The Judicial Committee of the Privy Council: Law and the British Empire

Location:

MPIeR

Room:

Z 01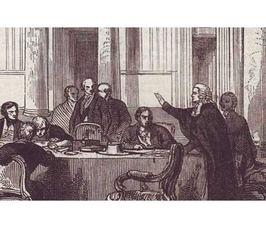 In cooperation with the Institute for Legal History of the Goethe University Frankfurt the Max Planck Institute for European Legal History carries on with a Frankfurt tradition and invites you to the Frankfurt Legal History Evening Lecture which takes place at the beginning and end of each semester.
On November 2, 2016 at 6 p.m. s.t. Professor Catharine MacMillan, King's College London, will talk about "The Judicial Committee of the Privy Council: Law and the British Empire".
The Judicial Committee of the Privy Council: Law and the British Empire
Abstract
In the spring of 1887 an American lawyer visiting London described the Judicial Committee of the Privy Council as 'the court above all others in Christendom, in which one can practice law like a gentleman. It is the court of probably the widest territorial jurisdiction in the world, being the final court of appeal of the entire British Empire other than Great Britain and Ireland'.
This paper examines an aspect of the functioning of the Judicial Committee of the Privy Council. The Judicial Committee was an important force in both the development and the maintenance of the rule of law in the diverse and global entity that was the British Empire. It also made a critical and lasting impact upon the substance of the law in the many legal systems within this Empire. Comparatively little systematic research has been undertaken on the Judicial Committee and this paper is a part of a larger research project examining the many functions and diffuse impacts of the Judicial Committee between 1833 and 1945.
The paper explores some of the personalities of the Judicial Committee in the nineteenth and early twentieth centuries. Drawing upon both original archival research of recently released documents and key secondary sources, a consideration is made of the men who made up the actors of the Judicial Committee – judges, barristers, solicitors and the many litigants who brought their cases to the Judicial Committee in London. Examining the workings of the Judicial Committee through the actions of individuals assists in understanding some of the bigger questions about the role of the Judicial Committee and its impact upon law in the United Kingdom and throughout the British Empire.
Picture: Sitting of a Judicial Committee of the Privy Council